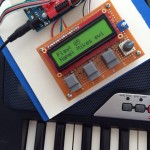 I've created a number of versions of "The Rotator" over the years. This video details one of the first versions that involved creating custom hardware based on the Arduino micro-controller and several parts scavenged from various bits and pieces I had lying around.
Then a couple of years ago while in Japan I made a field trip to "Electric City" in Akihabara where I was able to buy a bunch of electronics parts that allowed me to start work on yet another version.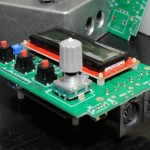 I wanted to start again with improved hardware and a better layout. I was really excited to find what appeared to be Prophet-V-style gray buttons and some decent push-button rotary encoders. Within a few weeks I was able to get a working breadboard up and running (top left) where I could test the code and work on the software.
Enter the amazing Dennis Alichwer who totally crushed it on laying out a custom circuit board based on my design for the test harness.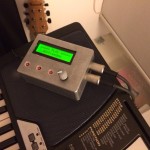 The result was the "MB1" (middle left) – which stands for "Midi Box 1" or possibly "Mike Brecker 1" we're not sure.
Anyway, I have a couple of boxes in use. One is running the latest rotator software, and the other is running an alpha version of a new toy I'm working on called MidiBot.
Update: Feb 2018
I've recently ported the Midi Rotator to a Logic/MainStage MidiFX script. It's even more flexible than the hardware version in that it can support many more voices of rotation.