While searching through some storage boxes the other day, I came across an assortment of badges and, passes and photos.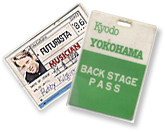 There were also several photos taken at various gigs in Japan. This one taken during a Teramasu Hino concert, live at the Tokyo Dome – or "The Egg" as it's sometimes called. Here's me and Steve Ferone (Clapton's drummer) trying to decipher the mysterious 'half time show'. Go figure…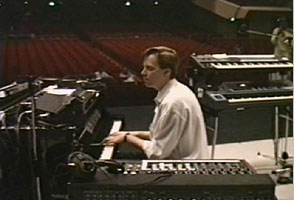 (left) At a sound check in Yokohama, Japan while touring with Riuichi Sakamoto – 1986. Yamaha had sponsored this tour, and we were awash in fresh gear. Shown here is Riuichi's one of a kind (at the time) custom made "midi" 9ft concert grand. I also remember scoring two Akai S900 samplers on this trip – several months before they were released in the US.